Threads: Levels & Layers
Designers took on a different approach updating women's suits in the simplest way. This season, it's all about the oversized suit with a synched in the waist. This look is achieved by belts or corsets built into the suit. It's challenging to find a women's suit that does not look too masculine. However, this trend allows you to add some femininity and still look powerful at the same time.
Suit Up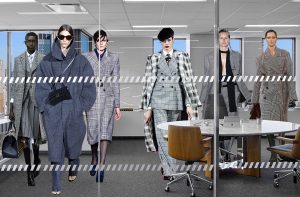 L to R: Thom Browne, Givenchy, Stella McCartney, Balenciaga, Proenza Schouler, Dolce & Gabbana
As the active sportswear trend continues throughout winter, neon colors are out and more subtle, darker colors are in. This 90's trend is not going anywhere. It's a great way to tie in everyone's sporty side in a more sophisticated way. Yes, people will hear you swishing and swooshing as you walk by, it's just part of the territory. At least you will look good doing it!
Make A Swish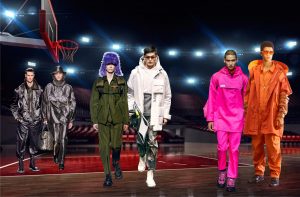 L to R: Dior Men, Fendi, Prada, Emporio Armani, Kenzo, Ambush
To read more, go to http://massappealmagazine.com/new-magazine/