City of Los Angeles Honors Legendary Black Comedians at Stand Up: The Art & Politics of Comedy Exhibit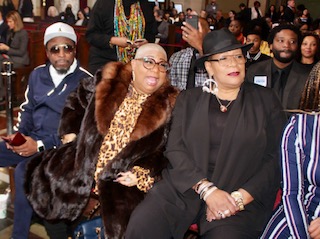 February 4, 2020, Los Angeles, CA – The city council President Herb Wesson Jr, Councilmember Curren Price, and Marqueece Harris-Dawson honored legendary African American comedians who have made an impact on the landscape of comedy and politics in Los Angeles.
Amongst the select group of black comedians honored was: Joe Torry, Tiffany Haddish, Luenell, Kym Whitley and Marsha Warfield. There were many notable Black comedians in attendance including; Guy Torry, Buddy Lewis, Laura Hayes, and Olden Polynice. The exhibit also features many of the comedic greats including Eddie Murphy, Martin Lawrence, Tommy Davidson, Redd Foxx, Jamie Foxx, and many others.
Stand Up: The Art & Politics of Comedy is an exhibit celebrating the contributions of Black comedians to American culture and the entertainment industry. The opening of LA City Hall's annual African-American History Month Exhibit focuses on:
• A glimpse at the legacy of African American stand-up comedians, a review of the history of comedy from an African-American perspective to include the origins of Jump Jim Crow, minstrel shows and its influence on American culture.
• A review of early performing venues available to African American artists, segregated social clubs & theaters and policies to desegregate performing venues in Southern California.
The celebration & council presentation was held at Tuesday's City Council Meeting in the City Council Chambers, room 340, followed by a tour of the Exhibit City Hall Bridge Gallery, 3rd floor. The exhibit opened February 4, 2020, and will run until March 9, 2020, residing at the Los Angeles City Hall located at 200 North Spring Street, Los Angeles CA 90012.